Ken Domon Museum of Photography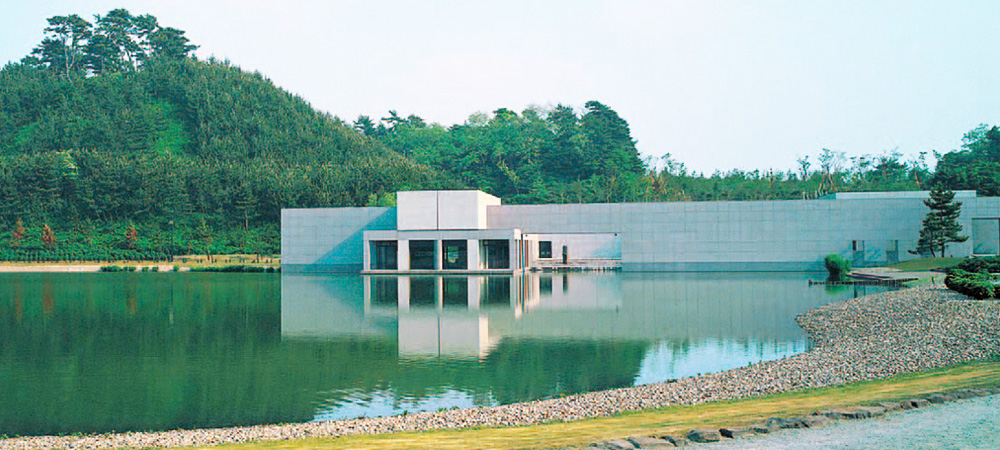 The first museum of photography in Japan
Ken Domon is one of the representative photographers of postwar Japan. He took news photos grounded in realism, portraits and snapshots of famous and ordinary people, as well as photos of cultural assets such as temples and Buddhist statues. His lens captured moments that revealed truths in the turbulent Showa era. Ken Domon Museum of Photography was built in his hometown of Sakata in October 1983 as the first Japanese museum dedicated solely to photographs, and is said to be the only photography museum in the world built for an individual. Here, all 70,000 pieces of his photographic work, including his lifework, "A Pilgrimage through Old Temples," "Muroji Temple," "Hiroshima," "The Children in Chikuho," "Bunraku Puppets," and "Features" are preserved and shown to the public in regular succession.
Ken Domon gifted all his 135,000 works to his hometown of Sakata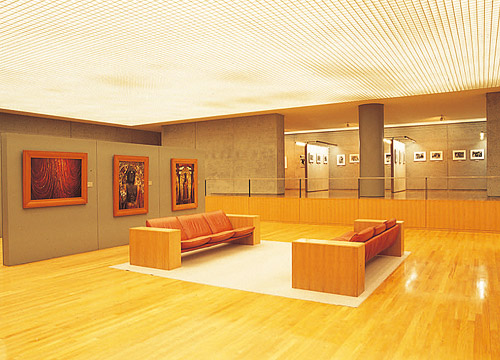 Ken Domon, who became the first honorary citizen of Sakata in 1974, declared his wish to present his hometown with his entire collection of photographic works. In response, Sakata completed construction of Ken Domon Museum of Photography in 1983 in Iimoriyama Park, which lies 4 kilometers southwest of the heart of the city. Set against a hill and beautiful natural forest, the building is adjacent to a pond and affords a view of far-reaching paddy fields stretching toward the magnificent Mt. Chokai, known as the Mt. Fuji of the Dewa region. The museum was designed by Mr. Yoshio Taniguchi of Taniguchi Architectural Research Institute who thought it of utmost importance to strike a harmonious balance between the building and this lovely natural environment, thereby bestowing an even greater purity on the artistic aura of Ken Domon's artwork.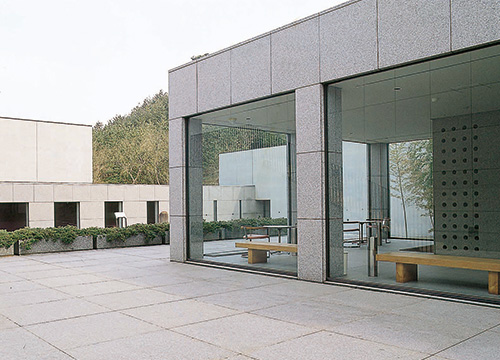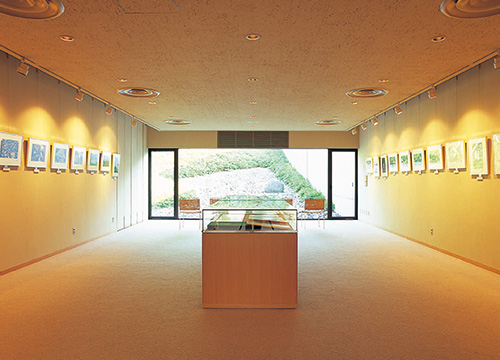 Testaments of friendship donated by notable artists
When the museum was constructed, artist friends of Ken Domon donated artwork of their own. Mr. Yusaku Kamekura, a graphic designer, contributed the plaque at the front of the museum, as well as poster and ticket designs. Mr. Isamu Noguchi, a sculptor, contributed the sculpture placed in the courtyard and some benches, while Mr. Hiroshi Teshigahara, head of the Sogetsu School of flower arrangement, contributed the garden landscaping and an objet d'art. These presents donated out of friendship elevate the artistic air of the museum, which was awarded two stars in the Michelin Guide in 2009.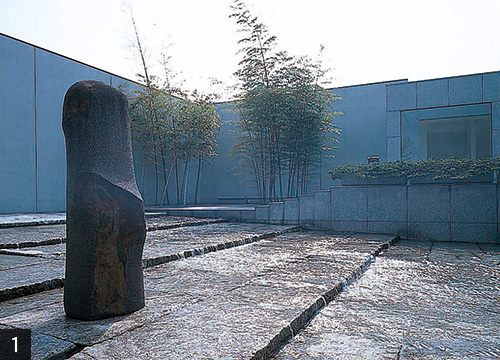 "Mr. Domon," sculpture by Isamu Noguchi
"Stream," garden by Hiroshi Teshigahara
Plaque by Yusaku Kamekura
Stone inscribed with the word, "Kenko" by Shinpei Kusano